Conference Center at Suites at Sunchase
The Suites at Sunchase conference centers offer an ideal setting for your one of a kind event. The venue provides a contemporary backdrop for conferences, meetings, weddings, family reunions and special events. Whether your occasion is business or personal, Suites at Sunchase staff will welcome your group with attentive service, professional planning, and inventive catering in a truly relaxing environment.
Our conference and meeting facilities include spaces to host events of all sizes. We feature multiple meeting rooms that can be arranged in various configurations to suit your needs. Request a floor plan diagram with room dimensions and suggested capacities based on configuration (theater, reception, banquet, classroom, hollow square or u-shape) from one of our coordinators.
Suites at Sunchase is now offering an amazing Retreat Room! Our Retreat Room fits up to 88 people. For more information please do not hesitate to contact us!
Please call us at (956) 761-7711 to assist you in the planning of your conference, event or company/church retreat!
Our Conference Center at a Glance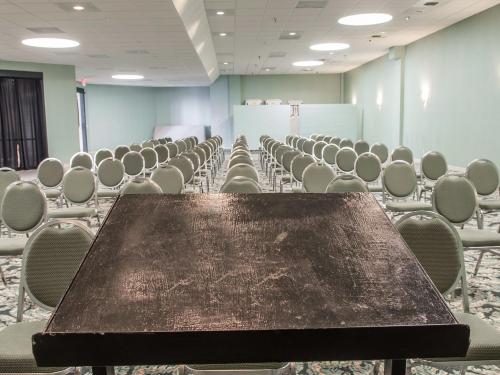 Key Features:
16,000 square feet of meeting and banquet space
Meeting space with breakout rooms.
High speed internet service in all meeting rooms facilitating video conferencing.
Contact one of our conference coordinators today to help organize your entire meeting or event. Whether your group is gathering for the day or for the week, we plan to exceed your every expectation.
For inquires contact our coordinator at (956) 761-7711